Moving Ergonomics Upstream in the Design Process
Written by: Amii Pereira, CCPE, Senior Ergonomist
The planning phase of any design project is one of the most crucial times for an Ergonomist to be involved. This phase is the ideal time to consider the ergonomic impact on the population of users. Missing this opportunity can result in a need to fix ergonomic concerns after implementation, which is typically costly and more difficult to complete. In addition, this reactive mindset can result in implementation of ineffective systems or lead to work-related ergonomic injuries. On many occasions, by the time a substantial ergonomic concern is identified through common reactive measures such as worker feedback, wellness programs, or risk assessments on an implemented design, a workplace may already be managing an ergonomic injury.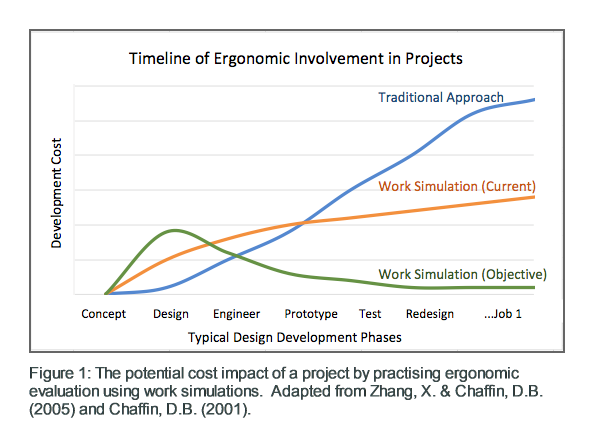 You may already be familiar with the direct financial impact associated with ergonomic injuries such as medical expenses, rehabilitation and insurance premiums. For example, WSIB has indicated the direct cost of one high-impact workplace injury (including some ergonomic injuries) to be $33 000-$52 000. Indirect costs may include (but are not limited to) lost wages, reduced worker performance/output, overtime from other workers, training and replacing the work force. Also, workplace culture and worker morale can be negatively affected. While these indirect costs are not as easily quantified as direct costs, the potential long-term impact can be far greater.
When considering ergonomics proactively, a combination of risk identification, historical concerns and current worker concerns can be used to drive your design focuses. In many cases, the best time to make positive ergonomic change is at the design stage of a workplace layout, process, parts and equipment. This is typically the time when design choices are critically evaluated to determine any potential negative impacts to production output and quality, but what about ergonomics?
It is possible to have a thorough understanding of potential ergonomic risks when planning layouts, equipment and processes before implementation. As shown in Figure 1, the completion of work simulation through mock up evaluations and drawing-based reviews is currently practised in various industries and is a step forward from the traditional/historic approach. With advances in digital human modelling, conducting objective work simulations earlier during the concept/design phase has become more feasible. This activity results in data that can be effectively, and economically integrated into early design planning and review. The concept phase is the best time to make changes to a design plan in order to minimize long-term costs, rather than spending additional funds after implementation to mitigate concerns brought on by poor ergonomic design.
Feel free to contact us to discuss how to move ergonomics upstream in your next design/re-design project.
References:
Chaffin, D. B. (2001). Digital Human Modelling for Vehicle and Workplace Design. Society of Automotive Engineers, Inc. Warrendale, PA.
Douphrate, D. & Rosecrance, J. (2004). The Economics and Cost Justification of Ergonomics. Proceedings of the 2nd Annual Regional National Occupational Research Agenda Young Investigators Symposium. University of Utah Press: Salt Lake City, UT, USA. P29-40.
Fact Sheet — High-impact claims. WSIB CSPAAT Ontario. www.wsib.on.ca
Zhang, X., & Chaffin, D. B. (2005). Digital human modeling for computer-aided ergonomics. Handbook of Occupational Ergonomics. Taylor & Francis, CRC Press, London, Boca Raton, 1-20.
Contact Us
Back to Articles